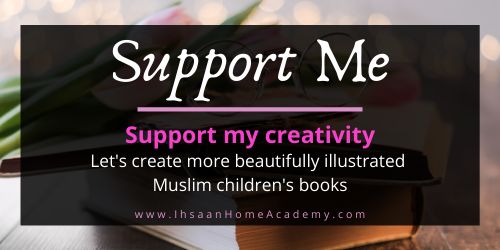 Assalaam 'alaikum
I'm a mother and a home educator who loves creating digital and physical educational products for children.
One of my goals is to write many amazing children's story books with beautiful illustrations. I've written some free digital books that I shared on my blog for people to enjoy reading with their children. I have many draft books with better quality and beautiful stories that are on their way to being published.
However, many parents prefer having physical books with quality illustrations. To create quality illustrations, I would need to hire illustrators.
For me to provide those requests and enjoy the process of my creativity at the same time, it would be wonderful to get some support.
If you would like to contribute in supporting my creativity, please do so by donating below.
Jazak Allahu khayr for supporting the creativity of a Muslim and being part of building Muslim children's library books.